"Worry wears you out more than work, yet people still choose worry over work. Work wears you out more than worship, yet people choose work over worship." Pastor Anthony Does, Lindsay Ontario
Many people think of worship as a "Sunday morning thing." Not everyone knows this, but worship plays a major role in the weekly outreaches to the homeless by The Relief Bus. As volunteers ride in on the bus to serve in the Bronx, Harlem or Manhattan, they sing songs of hope, faith and victory. They know that the answer for the broken and hurting is not just more charity. It is a move of God.
The Relief Bus fights the war against poverty, addiction and hopelessness every week. Staff and volunteers aren't fighting with guns and knives, they brandish the weapons mentioned in 2 Corinthians 10:4. "The weapons we fight with are not the weapons of the world. On the contrary, they have divine power to demolish strongholds."
Sometimes the people we feed and serve in the inner city literally break out in praise on the streets in Spanish or in English. They have found the answer. They can't trust in money, the economy or their earning power. Despite their circumstances, they look beyond the immediate into the eternal and acknowledge God's provision through worship. We have a lot to learn from the poor. "Listen, my beloved brethren: did not God choose the poor of this world to be rich in faith and heirs of the kingdom which He promised to those who love Him?" James 2:5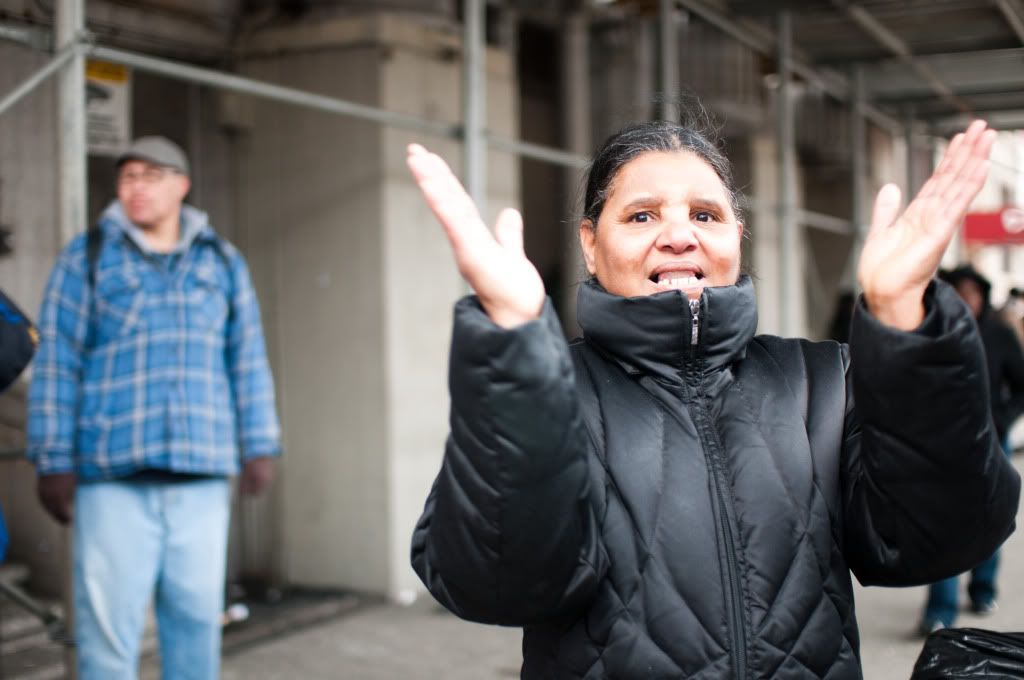 A woman singing along with some volunteers at The Relief Bus in the Bronx
Some people look at the problems facing the poor and homeless and worry that change is impossible. This worry, anxiety or fear discourages them so much that they just give up hope. Others get to work trying to make a difference, but find that there is so much work to do that they exhaust themselves through overworking. People can become jaded or even burned out this way. There is better way.
In 2 Chronicles 20:12, Jehoshaphat prays, "For we have no power to face this vast army that is attacking us. We do not know what to do, but our eyes are on you." Scripture goes on to say that as the people of Israel worshipped God, their enemies turned against one another and were destroyed. They turned their eyes from the overwhelming challenge and focused instead on God as the answer.
Worship plays a major role in my life, because it is the way that I can tap directly into the source of life. When I come to the end of myself, which doesn't take long, I can go to a well that never runs dry. When the battle seems too hard, the challenge too daunting, I get my eyes, my hope and my faith focused back on Jesus through worship. One of the ways I do this is by spending time with The Relief Bus staff weekly on Tuesday mornings, worshipping God and praying together.
Another way we are engaging in worship warfare is by hosting a worship event on August 21 called Concert For The Homeless, featuring Jason Upton and his band. This is a fundraiser for The Relief Bus, but it is also an acknowledgment of God as the answer for the city, the ultimate solution for the poor and homeless. Please join us for this amazing night in the presence of God and focus your eyes on God as the source for your own breakthrough as well.
Jason Upton is one of the most prolific Christian musicians and songwriters of the 21st century. Not known simply as a contemporary or pop artist, Jason is a worship leader that crafts powerful worship songs. For the last eleven years, his concerts have led listeners to encounter God in a fresh way that draws them deeper into the heart of God. See a video of Jason performing live from a past concert in the same venue we are using here.
This special event takes place August 21, at Calvary Tabernacle in Cranford, New Jersey at 6pm. Address: 69 Myrtle Street, Cranford, NJ. Tickets are $12 at the door. An offering will be taken for the homeless. For more info: info@reliefbus.org , 1.800.736.2773, or www.reliefbus.org.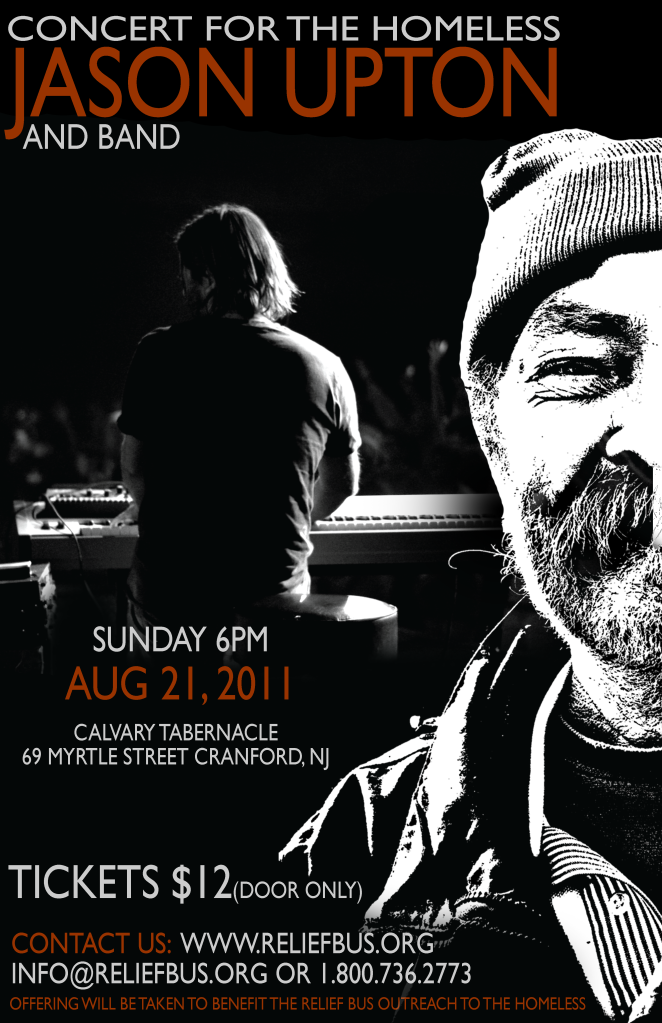 Posted under
Articles