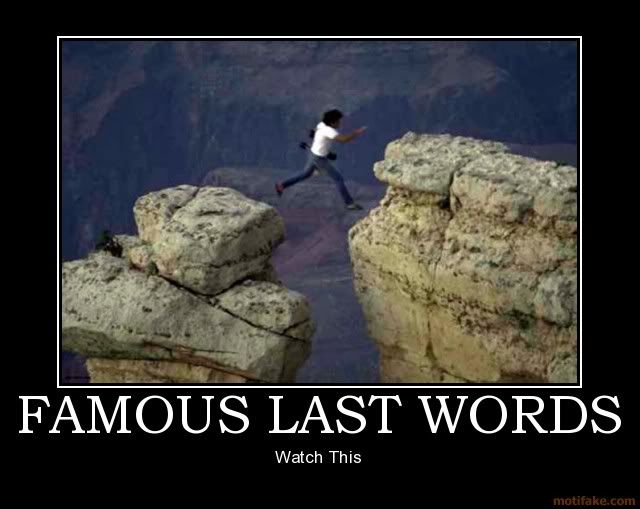 There are whole books full of famous people's last words before they died. They are quite interesting. Here are a few good ones:
"How were the receipts today at Madison Square Garden?"
P. T. Barnum, entrepreneur, d. 1891

"That was the best ice-cream soda I ever tasted."
Lou Costello, comedian, d. March 3, 1959

"Die? I should say not, dear fellow. No Barrymore would allow such a conventional thing to happen to him."
John Barrymore, actor, d. May 29, 1942

"It is very beautiful over there."
Thomas Alva Edison, inventor, d. October 18, 1931
The Apostle Paul was one of the most influential men in history. His writings have literally changed the world. In Acts Chapter 20, Paul gave his farewell speech to the Christian leaders in the city of Ephesus. He was on his way to Jerusalem where he knew he would probably be arrested, thrown in prison, and maybe killed. He wanted his last words to the Ephesians to be important ones.
In verse 35 he states that,
"In everything I did, I showed you that by this kind of hard work we must help the weak, remembering the words the Lord Jesus himself said: 'It is more blessed to give than to receive.'"
These are words from a formerly aggressive religious leader who would stop at nothing to succeed. His goal had been to wipe out Christianity. He didn't let anyone stand in his way when he was on a mission, until God got in his way. Paul was a man who had been transformed, humbled, and he felt compelled to pass on the most important lessons that he had learned:
1. We must help the weak.
2. Giving is even better than receiving.
There is something about giving that satisfies us to the very core of our being. The reality of being an American is that even in the midst of a recession, we can have it all and still feel empty. We are inundated with entertainment, media, and instant information. Yet the more we receive, the less satisfied we are.
Even Christians who have accepted the priceless gift of salvation can find themselves feeling emotionally impoverished and unsatisfied. Without a lifestyle of giving, we become black holes that simply swallow up life instead of giving life. A body of water that only has an inlet becomes murky, stagnant and dead. A body of water with an outlet on the other hand is clear, refreshing, and full of life.
The reason I believe that it really is a blessing to give is that it centers us. It realigns our priorities and pulls us into our core, God-given purposes like nothing else can. Ironically, the more we empty ourselves, the more full we become.
Who are we supposed to give to? Paul says it pretty clearly, "Help the weak." But what if they don't deserve help?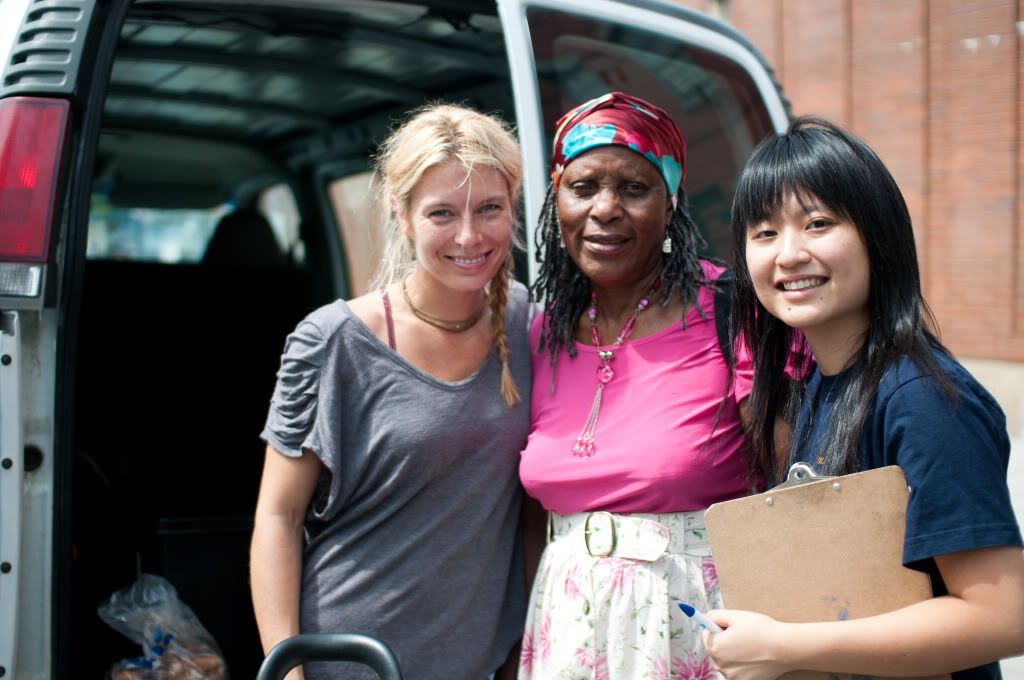 Volunteers making new friends while serving on the streets with The Relief Bus
We have many people come to serve on The Relief Bus who have never been involved in anything like this in their lives. Some come with preconceived notions about the poor or the homeless. Some may even have a mentality that the poor should just "pull themselves up by their bootstraps." Once they spend time with the poor however, their outlook changes and they start to see that God is moving them to be part of the life transformation process with that person. The closer they get to the needy, the more they can identify and sympathize with them. Hearts mingle and the volunteer finds their own heart being changed.
A fellow follower of Christ put it this way,
"Love of neighbor is thus shown to be possible in the way proclaimed by the Bible, by Jesus. It consists in the very fact that in God and with God, I love even the person whom I do not like or even know. This can only take place on the basis of an intimate encounter with God, an encounter which has become a communion of will, even affecting my feelings. Then I learn to look on this other person not simply with my eyes and my feelings, but from the perspective of Jesus Christ. His friend is my friend…Seeing with the eyes of Christ I can give to others much more than their outward necessities: I can give them the look of love which they crave…"

-Pope Benedict XVI, Encyclical Letter: On Christian Love (accessed 28, Feb., 2006)
How much should we give? Probably no more than Jesus gives to us. We are the weak ones that He still helps every day.
Fill out a volunteer application to serve on The Relief Bus by clicking HERE. Call 1-800-736-2773 or email volunteer@reliefbus.org to sign up today.
Posted under
Articles