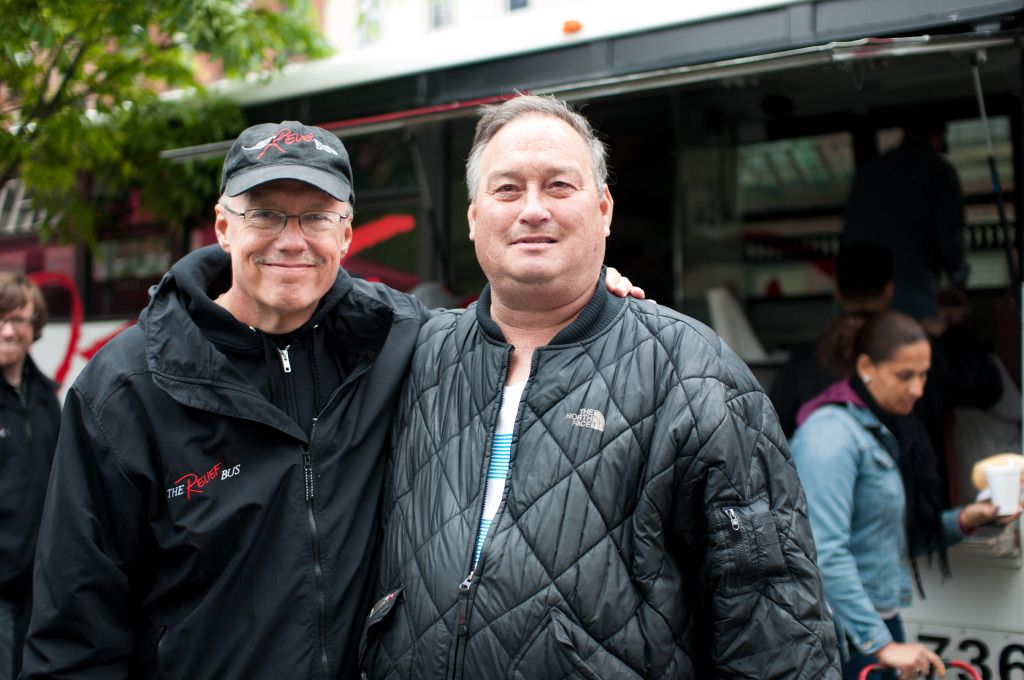 Yesterday I met a man named Charlie in the South Bronx during a day of outreach with The Relief Bus. Fifteen years ago Charlie met Vice President & General Manager of The Relief Bus, Bill Hoffman. Back then he was just known as "Bill." Charlie told the story of his condition when he met Bill those many years ago: sick, homeless and desperate. In his greatest hour of need, Bill helped Charlie and his family find shelter and even diapers for his infant daughter. Today he tells how Bill's act of friendship and love kept him from bottoming out completely. He is forever grateful. See a video of Charlie's story told live on the street at The Relief Bus here:
"While he was doing time in the pen, Crazy Johnny heard the word on the street about what his cousin was doing. Johnny sent his boys to ask Jesus, "Are you the One God sent to get us out of this mess or not?

"Jesus said, "The proof is in the pudding. Tell Johnny I'm doing some wild miracles here. I'm healing people who are blind as bats, straightening out crippled legs, changing rotting flesh into brand new skin, unplugging deaf ears, bringing dead people back to life and I'm telling the poor not to give up hope because God really does love them. I may look pretty ordinary on the outside, but looks can be deceiving. If you hang in there with me, you'll find what you are looking for."
Matthew 11:2-5 (The Street Bible)
Right after this passage in Matthew 11:11, Jesus ironically goes on to declare that John was the greatest prophet ever to walk the earth right after John sent his disciples to confirm whether or not his own cousin was the Messiah. You would think that the greatest prophet the world had ever known would have some insight into who the person all of scripture pointed toward, as to who the Messiah really is, especially if they were related! But his question to Jesus was simple, "Do you have proof?"
It just goes to show that we all have moments of doubt. As John languished in prison facing his own execution, he wanted to confirm that his life's efforts had not been wasted.
Jesus' answer echoed the prophecy detailed in Isaiah 61:
"The Spirit of the Sovereign Lord is on me,
because the Lord has anointed me
to proclaim good news to the poor.
He has sent me to bind up the brokenhearted,
to proclaim freedom for the captives
and release from darkness for the prisoners,
to proclaim the year of the Lord's favor and the day of vengeance of our God,
to comfort all who mourn." (Isaiah 61:1, 2 NIV)
The proof of Jesus' messiahship was the demonstration of the true character of God. While the Jewish world anticipated a conquering King, Jesus came as a humble servant, spending his life amongst the poor and powerless. His acts of compassion verified him as the true God, savior of humanity and the greatest hero in history.
If John were to ask us today if we really are followers of the Messiah, what would our response be? If the answer is yes, what proof would we offer to demonstrate that we are truly disciples, followers and imitators of the Messiah Rabbi called Jesus? Isn't that what the world's ultimate question for us is, "Do you have proof?"
May our answer be, "I'm spending time with the down and out, telling them good news, that Jesus loves them. I am sharing the same hope and healing that God lavished on me."
Charlie not only discovered proof that God was real fifteen years ago, he also found proof that Bill was the real deal as well, a true follower. May we all be able to produce "evidence sufficient to establish a thing (our faith) as true, or to produce belief in its truth", for that is the definition of proof.
Posted under
Articles