Imagine trying to pick out a present for the guy who really has everything. I'm talking about God. What kind of gift could you give God that He would really want? You won't find it shopping online. The gift I'm thinking of is the perfect fit, and you won't need a warranty either, because it's already broken. "The sacrifices of God are a broken spirit; a broken and contrite heart, O God, you will not despise." Psalm 51:17 NIV
Jesus could have come the first time as a powerful warrior, but he chose to be born into poverty and political oppression. God chose to enter the brokenness of the world, up close and personal. Jesus experienced the pain of those around him firsthand. The Bible calls Jesus, "a man of suffering, and familiar with pain." Is. 53:3.
Look at who is struggling around us: For the first time in recorded history, New York City has recorded over
40,000 people staying in the public shelter system during the month of October. This record number includes
17,000 children. The broken are all around us.
I have met some of these homeless children on the streets. I have four children of my own and I wonder what all these homeless kids will be going through over the Christmas holidays. I wonder what I can do to help?
Many times we look at the plight of the poor and although we want to do something to help, we feel so overwhelmed that we do nothing. We feel inadequate so we disqualify ourselves. The gift that God really wants from us is action governed by a humble and broken heart. From this perspective, others can receive God's love from us without feeling condescended to or looked down upon.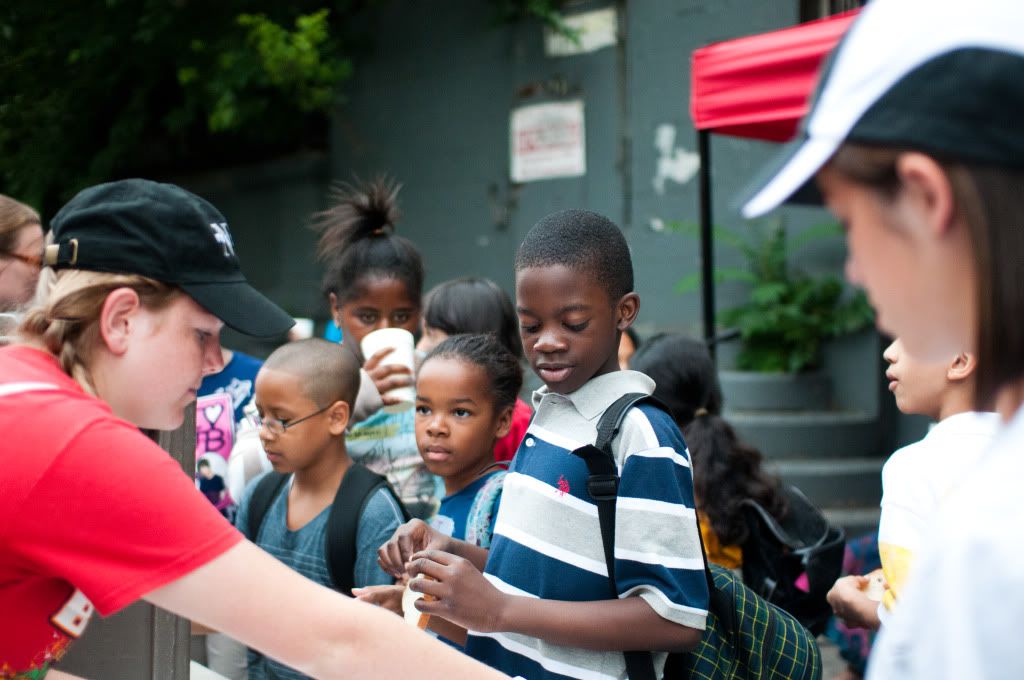 Children stopping by the bus in W. Harlem for some soup & bread
Brokenness allows us to connect with people the way Jesus did, humbly. It validates us in people's eyes. Now that you've got the method, let me introduce you to a great delivery system that beats Santa's sleigh any day:
For 22 years, The Relief Bus has been a vehicle of life transformation in the inner city. The Relief Bus is a mobile soup kitchen and resource center. It feeds thousands of gallons of delicious soup every year to the hungry. More importantly it delivers volunteers into the most needy areas of New York City and New Jersey. These volunteers are on a mission to give away the greatest gift they have: grace. The gift of grace allows us to not come as one with all the answers, but to journey with others who are struggling.
As relationships are built during outreaches with The Relief Bus, connections are made to vital resources: shelter, detox, rehab, food, clothing, job training and local churches. These gifts keep on giving for those desperately in need.
This Christmas, consider giving to the poor through The Relief Bus. Also consider volunteering and giving your time. Mail checks to "The Relief Bus", 295 Walnut Street, Elizabeth, NJ 07201. Give online at www.reliefbus.org. To volunteer contact us at volunteer@reliefbus.org.
Posted under
Articles